PRESS RELEASE - November 13, 2006
American Cantors visit interrupted by Qassam rocket attack in Israel
Thursday afternoon, October 19, 2006 at approximately 3:30 PM Israel time
For immediate dissemination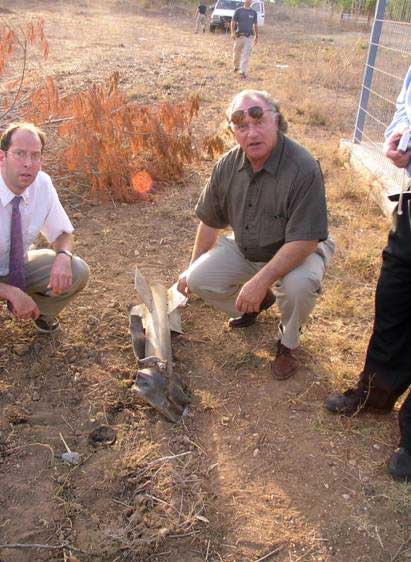 Cantors Kepecs, Montefiore and Rossler examine a still warm Qassam 10/19/06
In a stark revelation of the facts on the ground in Israel, Cantor David Montefiore revealed, in his President's Report 10/25/06 to the Jewish Ministers Cantors Association of America & Canada [JMCA] regarding their Mission: Mivtzah Emunah - Operation Faith [October 13 -19, 2006], that while having discussions at Sderot with Mayor Eli Moyal, that they had come under rocket attack.
"The Qassams used to land occasionally, but the situation has become intolerable. The ritual repeats itself. Every summer, government representatives come to see us and increase the budget so we will not complain. As if it is possible to sell our suffering for money. This will not continue - we will not be bought for money. We demand military action to restore the sense of peace and serenity to this city to give the people and the Negev a chance to continue to develop. They don't want to hear this in Jerusalem but we don't care – we want to live in peace. "Two things are flying now in Israel - Prime Minister Olmert and the Qassams. We asked Olmert to come down from the Olympus and look at what is happening here."
"….in the middle of our meeting with Moyal, a prophetic thing happened: two Qassam rockets landed right near where we were talking in the village. Moyal called his son on his cell immediately and Cantors Kepecs, Rossler and Montefiore darted from Moyal's office with their driver Yishay Avital and cameraman and went to where the bomb squad had just arrived to disarm the Qassams. With a camera rolling and our guide and hosts in tow, we recorded the truth of what Israelis have been telling the world – land for peace is a very bad deal. The reality of possibly not returning home to our loved ones, slammed into our faces as we looked at each other in disbelief."
The Cantors traveled from four continents to their spiritual home – Jerusalem. Their journey of faith and music culminated with a Concert of Thanksgiving at Yeshurun Central Synagogue in Jerusalem, Wednesday evening, October 18, 2006 and was sponsored by the Jerusalem Municipality. In a show of overwhelming support for the State of Israel and those who have suffered the winds of war this past summer – the Jewish Ministers Cantors Association of America & Canada [established 1897] [JMCA] www.thejmca.com in New York City in partnership with The Cantors Conservatory, Inc of Tucson, Arizona www.CantorsConservatory.org and the Government of Israel - Ministry of Tourism, World Zionist Organization, American Zionist Movement and the Israel Center of Tucson traveled to Israel. They also met with the wounded IDF soldiers in Tel HaShomer Hospital, former residents and refugees from Gush Katif and Moshav Yad Binyamin. Some of the renowned cantors participating are: Elie Kepecs, Alex Stein, Michael Trachtenberg, Moshe Schulhof, Asher Hainowitz, Israel Rand and David Montefiore.
http://english.katif.net/index.php?id=2241&sub=1
http://www.jewishtucson.org/content_display.html?ArticleID=193623
http://masoret.hevre.co.il/hydepark/topic.asp?topic_id=2047798
For further details please go to our websites and click on Events or Support.
UNITED STATES CONTACT: Cantor David Montefiore MontefioreD@aol.com
520.444.5795 520.887.3587 800.977.JMCA [5622]
CANADA CONTACT: Cantor Alex Stein cantor@bethtzedec.ca
Calgary, Alberta Canada 403-252-7444 / 403-255-8688 /Fax: 403-252-8319
Jewish Ministers Cantors Association of America & Canada
A New York State 501 (c) 3 corporation
244 Fifth Avenue Suite G 274 New York, New York 10001
Tel: 800.977.JMCA [5622] 520.444.5795 520.887.3587
MontefioreD@aol.com
www.theJMCA.com
The Cantors' Conservatory, Inc. – an Arizona not-for-profit corporation
P. O. Box 64981 Tucson, Arizona 85728
Conservato@aol.com
www.CantorsConservatory.org