HISTORIC MEETING WITH POPE JOHN PAUL II

CANTORS GO TO ROME!

The JMCA and thirteen Cantors of the association were invited to a special private audience with His Holiness Pope John Paul II in Vatican City on Tuesday, January 18, 2005. Pave The Way Foundation , a non-profit corporation, took this initiative by choosing the JMCA to represent the Jewish Community amongst some 160 Jewish clergy and lay leaders.

The Jewish dignitaries traveled to Rome specifically to recognize and to thank

Pope John Paul II for his efforts during his 26-year pontificate in bringing down the walls of hate, as well as his contribution towards religious reconciliation with the Jewish People and the State of Israel. The Rabbis in attendance recited a special prayer and the Cantors sang a special blessing, the Shehecheyahu, to commemorate this event at the Vatican in Clementine Hall.

The group attending this special audience with the Pope was headed by

Mr. Gary Krupp, President of Pave The Way Foundation along with Oded Ben-Hur, Israeli Ambassador to the Holy See; Amire Ofek, Israeli Consul for Media in New York; Rabbi Adam Mintz, President of the New York Board of Rabbis; Rabbi Shmuel Rene Sirot, Past Chief Rabbi of Europe and France; Rabbi David Lincoln, Chief Rabbi of the Park Avenue Synagogue, New York; Rabbi Shlomo Riskin, Chief Rabbi of Efrat, Jerusalem; Rabbi Joseph Arbib of the Great Synagogue in Rome and Gadi Golan, former Director of Religious Affairs for the Israel Foreign Ministry.

One of the scheduled and exciting items on the agenda was a rare visit to the Vatican's Jewish archives. The Cantors, all of whom are members of the Jewish Ministers Cantors Association of America presented a concert at the Great Synagogue of Rome on Monday, January 17 at 8:00 PM for the delegation and representatives of the Vatican and the Roman Jewish Community. Participants in this concert were Cantors: Avraham Amar, Eliezer Kepecs, Josh Rubenstein, Leslie Rimer, Motti Fuchs, Victor I. Beck, Yehuda Rossler, Michael Trachtenberg, David Montefiore, Steve Shor, Ofer Barnoy, Gadi Elon and Sol Zim.

The JMCA, once known as the Chazzanim Farband is the oldest and most prestigious cantorial association in America. The JMCA has a glorious history and a membership that included some of the greatest talents of the past century. It is interesting to note that on December 9, 1947 the Jewish Ministers Cantors Association of America held its 50th Anniversary Concert at the Metropolitan Opera House with such luminaries as: Cantors Berele Chagy, Moshe Ganchoff, Samuel Vigoda, Leib Glantz, Eliezer Zaslavsky, Moshe Koussevitsky and Benzion Kapov-Kagan.

The JMCA leadership has been a proponent of dialogue and rapprochement and is delighted with the events in Rome. Pope John Paul II will be remembered as an extraordinary human being, a credit to the Creator who made him and a source of everlasting hope to all humankind.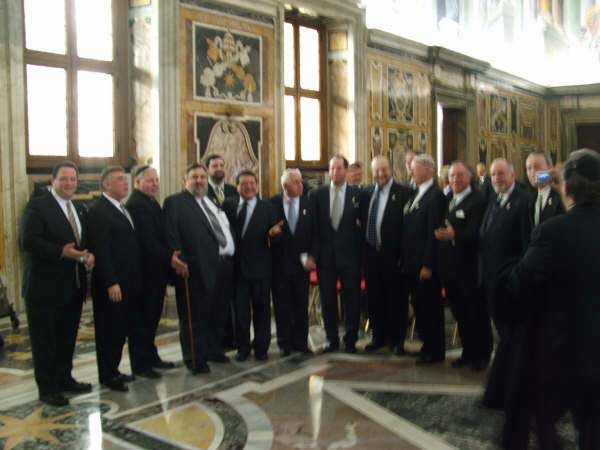 JMCA Cantors as they await audience with with John Paul II IN Clementine Hall - January 18, 2005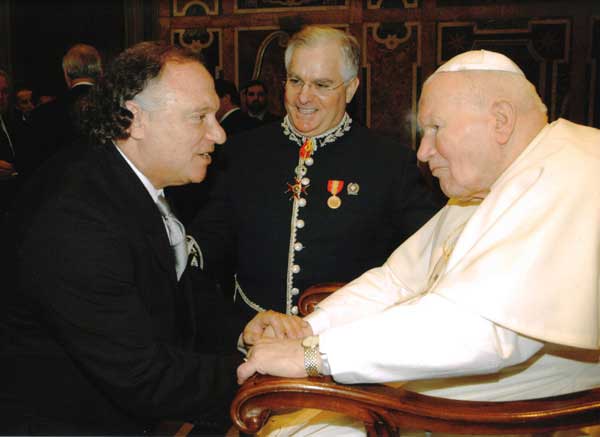 Cantor David Montefiore, JMCA President being greeted by Pope John Paul II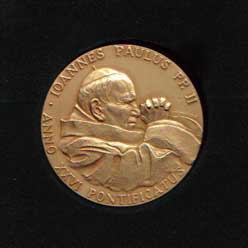 The Pope's Gift to the Cantors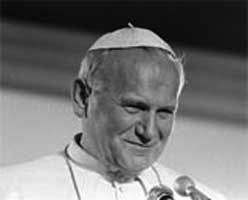 Young John Paul II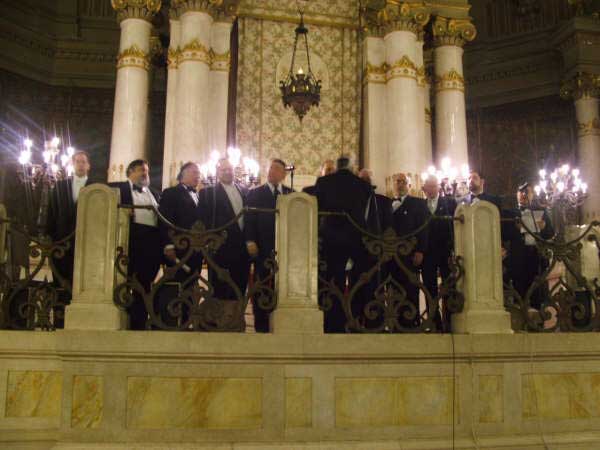 Cantors on Bimah of the Tempio Maggiore at concert for the Roman Community January 17, 2005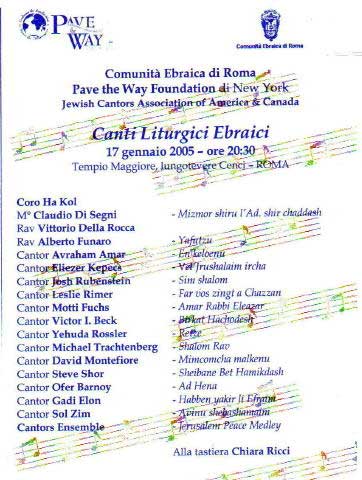 Program of Concert at Tempio Maggiore at concert for the Roman Community January 17, 2005