Memory Lane: The JMCA Archives


Relive the glorious cantorial past by contributing to the JMCA website with your recordings, memoirs, letters and photographs of your very own experiences. See them come to life right here our website. Share your 'geshichte' with the entire world! Send them to us right here in New York City – make the donation you've always wanted to make of those recordings in the attic or basement. We know there's a ton of memorabilia out there so, nu shoin – send it to us and we'll all schep naches!


Also, don't forget that the JMCA is a New York State 501 (c) 3 not-for-profit corporation – so when you're thinking of making a gift [no matter what the amount] either go to our secure 'Support page' or contact:


Cantor Michael Trachtenburg, Treasurer
The Jewish Ministers Cantors Association of America & Canada
244 Fifth Avenue, Suite G 274
New York, New York 10001
Tel: 800.977.JMCA [5622]

MOSHE KOUSSEWITSKY'S PRE-WAR WARSAW PICTURE FOUND!
Portrait of Moshe Koussewitsky, Cantor of the Tlomacky Synagogue in Warsaw, trying out his voice on the railroad track in Otwock, a summer resort near Warsaw in 1939.
| | |
| --- | --- |
| Menahem Kipnis (1878-1942), Jewish singer, folklorist, journalist and photographer. Born in Ushomir, Ukraine, Kipnis was the son of a cantor. As a boy he sang in a number of leading choirs. In 1901 he moved to Warsaw, where he pursued his musical studies at the Warsaw Conservatory, became the first Jewish tenor in the chorus of the Warsaw opera, and began to publish on various aspects of Jewish music in the major Hebrew and Yiddish newspapers. In the 1910s he also began to collect Yiddish folksongs. From 1912 to 1932 he toured Poland, Germany and France, appearing in concert with his wife and former student, Zimra Seligsfeld, in combined lecture-performances of the Jewish folk songs which he had collected. He published several anthologies of these folk songs, as well as three separate collections of songs for children. In the 1920s and 30s Kipnis also worked as a photographer of Polish Jewry for the New York Yiddish newspaper, The Jewish Daily Forward. For over a decade his photographs, along with those of Alter Kacyzcne, appeared in the Sunday Arts Supplement. After the German occupation of Poland, Kipnis was forced into the Warsaw ghetto, where he died in May 1942. Both his ghetto journal and collection of Jewish folksongs were lost during the destruction of the ghetto. | |
Photo: Jewish Ministers Cantors Association of America – (JMCA) – Der Chazzonim Farband. Use or copying of Photo by permission only. Courtesy of the United States Holocaust Museum and YIVO Archives.
Live recording of Kol Nidre sung at the Central Synagogue in Moscow, USSR 1956
taken by MGM's engineers with a two minute introduction by Tuvye Schiff.
Cantor Barkin, suffering from a heavy cold, nevertheless began to sing the Kol Nidre with such feeling that the choir responded with great emotion. Suddenly the cantor began to cough and his voice began to break - he was unable to continue singing. With no other cantor available, the service might need to be suspended. Then someone recalled, that a Baal Shacharit, who occasionally sang morning services, was in attendance. The patriarch, about 75 years old and with a flowing white beard, was propelled forward. He began to sing the Kol Nidre prayers as they had never been heard before...
See details on back cover of Kol Nidre Album.
Courtesy of: Dartmouth Jewish Sound Archive

Cantor Moishe Oysher (1907-1958) was one of the great talents of the Yiddish theater and gained a reputation not only for his acting, but for his voice. When not on the stage,


Moishe Oysher, like his father and grandfather, served as a cantor. His film debut came with The Cantor's Son in 1936. There are three Yiddish films in which he starred. In one of the most famous films, Moishe Oysher is the "Vilner Balabesl", the cantor who leaves his position as the beloved Vilna Cantor in order to seek fame and fortune as an opera star in Warsaw. He feels uncomfortable in his new environment and yearns to return home to his wife, child and community. The New York Herald-Tribune wrote that the film was


"An artistic triumph!"



Courtesy of: www.YiddishVideo.com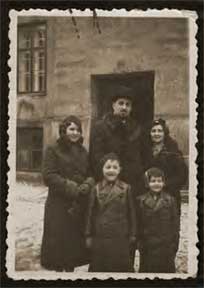 Portrait of Helen (Berkovic) Goldberger, Eugene Goldberger and their sons Milan and Leo taken shortly before the family moved to Denmark.
The Goldbergers met in Vienna, where Jeno [Cantor Eugene Goldberger] was studying music at the conservatory and attending cantorial school. Following their marriage, Jeno and Helen moved to Vukovar (Croatia), where he was offered a cantorial position. The two oldest children, Emanuel (Milan) and Lavoslav (Leo) were born there. In 1932 Jeno accepted a new position as Chief Cantor in Troppau (Opava, Czechoslovakia), where Gustav (Gus) was born two years later. Fearing the rising tide of Nazism, Jeno moved his family once again, this time to Denmark, where he assumed the position of Chief Cantor of Copenhagen. The family quickly integrated into their new surroundings, and in 1938 a fourth son was born, Erik (Chaim).
The German occupation of Denmark did not significantly change the lives of the Goldbergers during its first years. However, in the late summer of 1943 the situation altered suddenly. Seeking retaliation for the activities of the Danish resistance,

the Germans seized Jeno and a number of other prominent Jewish citizens.

Fortunately, a sympathetic Danish neighbor was able to prevent his formal arrest. Several weeks later, on October 1, 1943, plans for the imminent arrest and deportation of Danish Jewry were leaked to the Danes, who immediately rallied to the rescue of their Jewish compatriots, ferrying over 7,000 of them to Sweden. The Goldbergers were among those Jews who were carried to safety. For the remainder of the war the family lived in Goteborg, Sweden, where Jeno served as cantor. In June 1945 the Goldbergers returned to Copenhagen, where Jeno resumed his former position.

Photo courtesy of: The United States Holocaust Museum and Mr. Gus Goldberger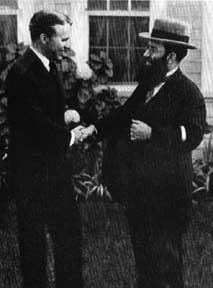 Two of the greatest stars of their day meet – Charlie Chaplin and Cantor Josef [Yosele] Rosenblat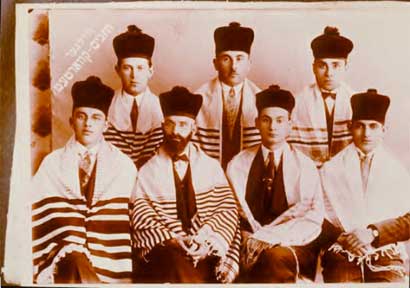 Cantor Gedalia Ginunski of Beth Medrash Eisiskes and shtetl of Astrin. Member of the Vilna Hazzanim Quartet - died Auschwitz before 1941
Gedalia Ginunski was a cantor in the Beth Medrash in Eisiskes as well as in the shtetl of Astrin. He was also a member of the Vilna Hazzanim [Cantors] Quartet. Together with his wife and children. Gedalia was deported to Auschwitz where he was forced to perform for the Germans. After an injury to his foot, he was sent to the gas chambers. His wife and children also perished.

Courtesy of: The United States Holocaust Museum Photo Archives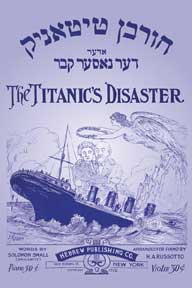 It is interesting to note that Russotto was an accomplished composer of synagogue music - especially the much performed "Kol Nidre". Here we have a 1912 piano arrangement of "Churbon Titanic" by H. A. Russotto.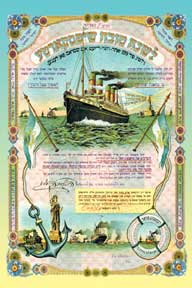 A ship's Happy New Year Card! L'Shono Tovah!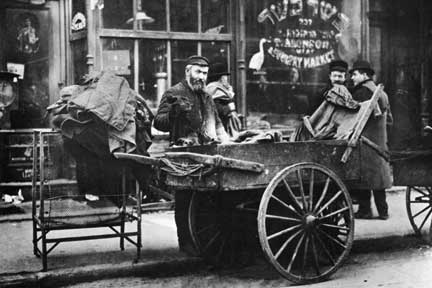 Kosher Meat Market on the lower East Side in the early part of the 20th Century